Long Live Beerworks expands to Boston
Long Live Beerworks, one of the best beer makers in Rhode Island, is coming to Boston. They will open in Roxbury early next year, if not sooner. The brewery is known for its hoppy IPAs, pastry stouts, and sour beers, which can only be found at its taproom in Providence. Long Live promises a similar atmosphere in Boston, with beers that are only made there.
In 2016, Armando DeDona and Jessica deBry opened Long Live Beerworks in the West End of Providence in a small space. As the state's brewing laws changed to allow more than a gallon of beer to be sold to go, the couple was ready with cans of the hottest styles of craft beer that could only be bought at the brewery.
Long Live outgrew its first location, so in 2019, it moved into a brick building on Sprague Street that used to be a mill and had just been brought up to historic code. Before opening his brewery, DeDona worked as a stonemason. He and deBry have taken advantage of the building's features by using natural light from the large, high windows and making use of clean, industrial lines and natural materials.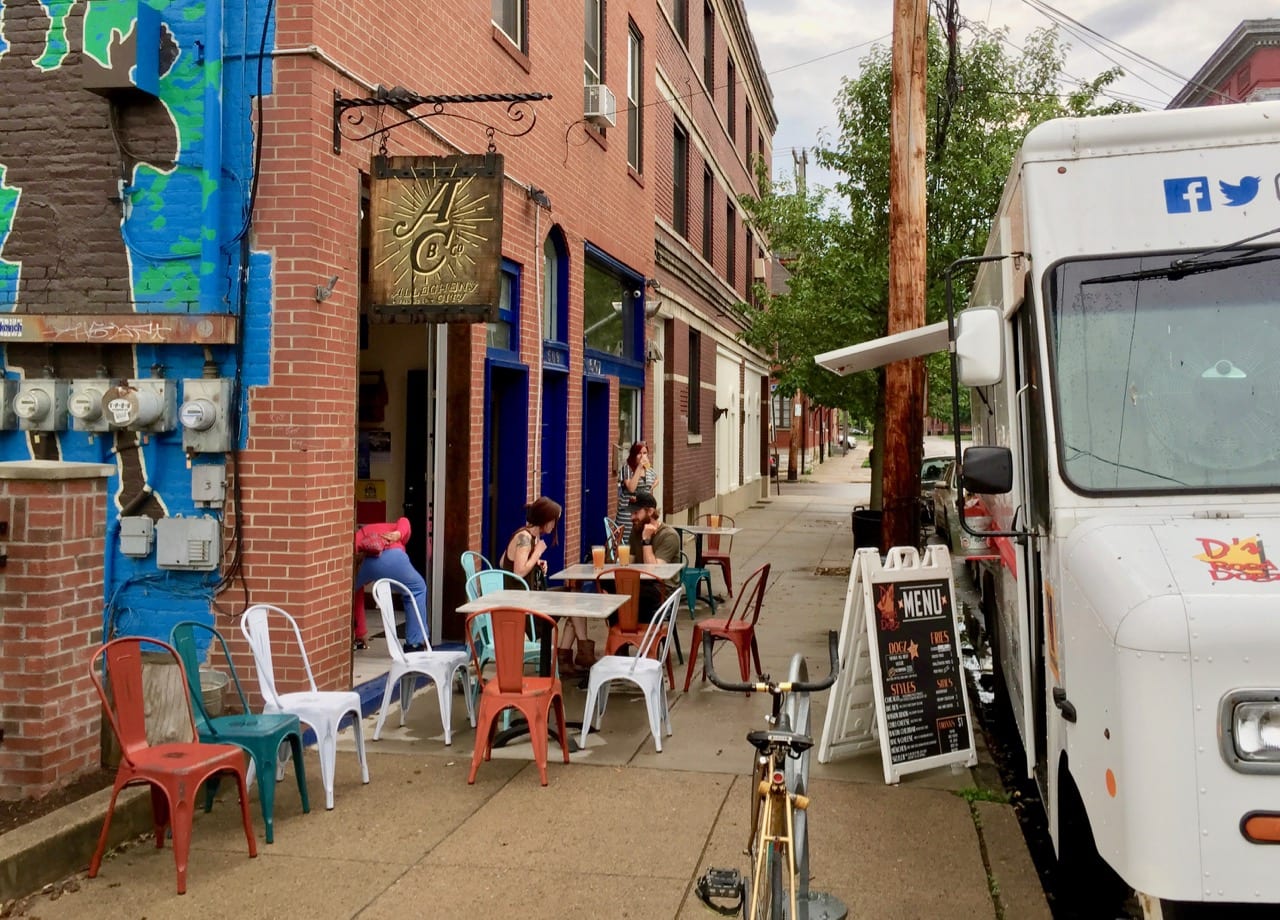 "The texture and history of the space make a beautiful backdrop for reusing the space in a new way," says deBry. So, the space in Boston, which is another old brick building that has been fixed up, is a natural fit.
Local beer fans are likely familiar with the Roxbury taproom, which is at 152 Hampden St. in the Newmarket Square area. It was most recently a branch of the hard kombucha brewery Flying Embers, which is based in California. Before that, it was a place where Backlash Beer was made. The taproom is on the ground floor of Feldman Geospatial's headquarters. Feldman Geospatial is a surveying company that bought the old factory building in 2016 and fixed it up. The upper floors contain their offices.
"When I looked at the building, I thought it really needed a brewery," says Michael Feldman, the president of the surveying company and the building's owner. It has a garage area with 20-foot ceilings that is now the 15-barrel brewhouse. It also has a two-level lounge area with a few steps up to what is now the main bar. The whole place is about 7,000 square feet. The taproom has a parking lot with at least 15 spots and is also zoned for seating outside during the warmer months.
Ryan Giunta, the company's chief marketing officer, says that Sunday, September 18, was the last day Flying Embers did business in Boston. Our Boston taproom was always intended to be a temporary endeavour, he claims.
The goals were to build a brand on the East Coast and do market research. Flying Embers is now focusing on selling their cans all over the country, but they will still sell them in Massachusetts. Giunta says, "When we heard that Long Live wanted to grow into our space, we thought it was the perfect time to give them the amazing space. We wish them luck in their upcoming phase of life.
Long Live wants to keep the general layout of the Roxbury taproom, but make a few changes. We spend a lot of time considering how to create an interesting space, according to deBry. "We want to make a few functional changes to make the taproom more useful," both for people who want to hang out and for people who just want to pick up cans to go.
Aesthetically, architectural drawings show that the lower level will get curved wood booths, green tiles on the bar, a new green ceiling, updated lighting, and new furniture. "We want to do what we did in Providence, which means putting a lot of thought into the taproom experience and making good beer," says deBry.
Feldman is happy that Long Live is moving into his building. "It's a brewery that people go to. There isn't a lot of foot traffic or retail traffic, so there needs to be a good reason for people to go there. He says, "Long Live has already shown that in Providence." (People who like beer and liquor can make a day of it by going to the speakeasy-style cocktail bar by Bully Boy Distillers, which is just a few blocks away, or the Dorchester Brewing Company, which is about a mile away.)
Long Live Boston could open as soon as the end of this year, but deBry says that a lot of things will affect that. Before the taproom is ready for visitors, the brewery could start making beer and selling it in cans. Follow @longliveroxbury on Instagram to find out what's going on.
longlivebeerworks.com is at 152 Hampden St., Roxbury, Boston.